Yesterday was Pancake Day in the UK. This time of year is full of different festivals - carnival, Fasching, Mardi Gras, maslenitsa - and they're all to do with celebrating and eating lots of food before you knuckle down and give something up for lent. We celebrate it by making pancakes (over lent you wouldn't have been allowed to eat rich foods like eggs and milk, so people used to use them up by making pancakes - or so British children are told!). Pancakes in the UK are thin, pretty much the same as French crêpes. You can eat them however you like, but the most common way is to sprinkle over sugar and then squeeze over lemon juice. It's sweet and sour at the same time - and it's delicious.
As I completely forgot to buy eggs yesterday, my celebrations are a little late. But that doesn't mean you shouldn't get measuring milk and sifting flour - pancakes are delicious any day of the year! It felt kind of sad to make sweet pancakes just for me, so I decided to make myself a nice savoury pancake-based dinner.
For two people, you need:
100g flour (about 2/3 cup)
Two eggs
300ml milk (I used almond milk)
Hot sauce (you judge how much!)
Vegetables!! This is up to you, I used courgette (zucchini), pepper, and mushrooms, but anything that roasts up nicely will do
Feta (if you don't eat dairy but still want a salty kick, you could try using capers instead of feta)
Olives
Chop up the veg and get it in a preheated oven (about 180 C or 350 Fahrenheit will do nicely). Whilst it's cooking, you can mix up the pancake batter. Sieve the flour into a mixing bowl, push a little well into the middle, and crack the eggs in there. Pour in about a quarter of the milk, and then get whisking. The batter will be really thick, so you'll need to add the rest of the milk in stages, until you get to a consistency a bit like thick single cream (I think single cream is "light cream" to you Americans).
Once you have the batter and the veg is almost done, heat a pan and some oil (I used virgin coconut oil), and get a ladle out and drop the batter into the pan. I got a bit ladle-happy, so my pancakes were kind of thick. Watch the batter like a hawk, and as soon as it starts to bubble, flip it.
Spoon over the veg, crumble over the feta, sprinkle over some olives. And repeat.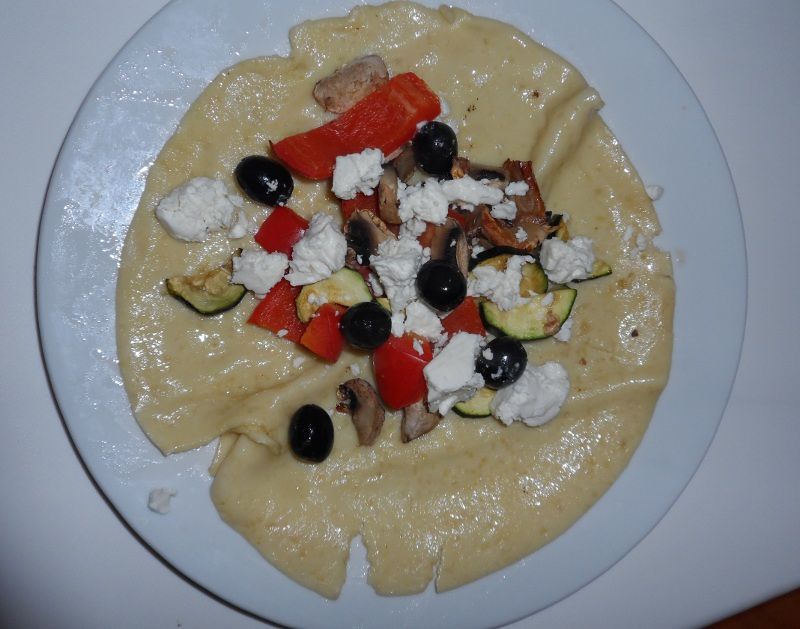 How do you celebrate this time of year in your country? Are you giving something up for lent?
Love,
Emy
xxx