Don't let the language fool you - this recipe isn't French, but Cameroonian, and for those of you who aren't linguists, it's a peanut sauce, normally made with chicken. A friend of mine, Simo, is half Cameroonian, and this is the dish she always requests when she goes home from uni, so we decided to vegetarianise it together.
Simo and I at Jesus College May Ball, Cambridge, 2013
I used plain Quorn fillets to replace the chicken, but I know that these aren't available everywhere - and I've heard they contain small quantities of egg, so vegans beware! If you don't want to use Quorn or can't get hold of it, I think tempeh would work pretty well too - but I'd leave it to 'marinate' longer than the Quorn!
I can absolutely see why Simo insists on this - it's delicious! But I mean, really good. But I mean, really really good. It's also incredibly filling, thanks to all the protein. The peanut butter makes it a bit calorific, but if you get high-quality peanut butter, it's all good fats.
For about three servings, you need:
Quorn fillets (two per person), OR as much tempeh as you fancy
An onion
Garlic, and plenty of it. Let's say three big cloves
Two veggie stock cubes
A lemon, for the juice
Tomato purée - three or four tablespoons
A sweet potato
A couple of carrots
Peanut butter! I think it's definitely worth getting a good brand with 97-99% peanuts, and definitely no added sugar. I used about 250g - but I added it a spoon at a time, so you could vary this.
Salt. I don't usually salt anything, but Simo says there HAS to be salt
Rice, to serve
Chop up the Quorn into chunks, chop the garlic and onions, and mix them in a tupperware box or a tin - something you can put in the fridge. Crumble the stock cubes in, and cut and squeeze in the lemon juice. Add in the tomato purée and stir to coat. Pop it in the fridge to let the flavours steep for a couple of hours.
In the meantime, you can skin and chop the carrots and the sweet potato into big chunks. When the Quorn is ready, get out a pan, pour in some oil or spritz with cooking oil spray, and tip in the Quorn and all its accompaniments. Cook and stir for about five minutes, then add in the carrot and sweet potato, and give it another three minutes or so.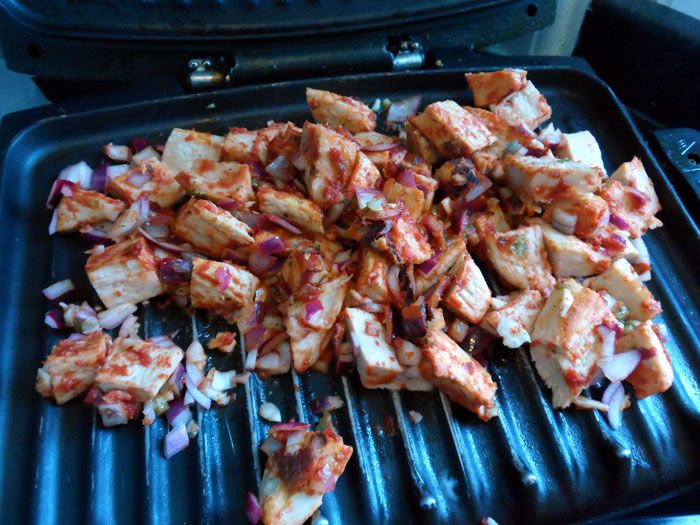 I had bad cooking facilities at uni (no hob, no oven!), so that's why these are on a grill and not in a pan
Pour over boiling water - say, 750ml, but I do everything by eye, and you don't want the sauce to be too sloppy. Let it boil and then simmer until the carrots and potato are soft. Take it off the heat and start adding in the peanut butter, one spoon at a time, and stirring until it melts into the sauce. Make sure it's pretty peanutty, and reasonably thick. Salt to taste and serve with rice.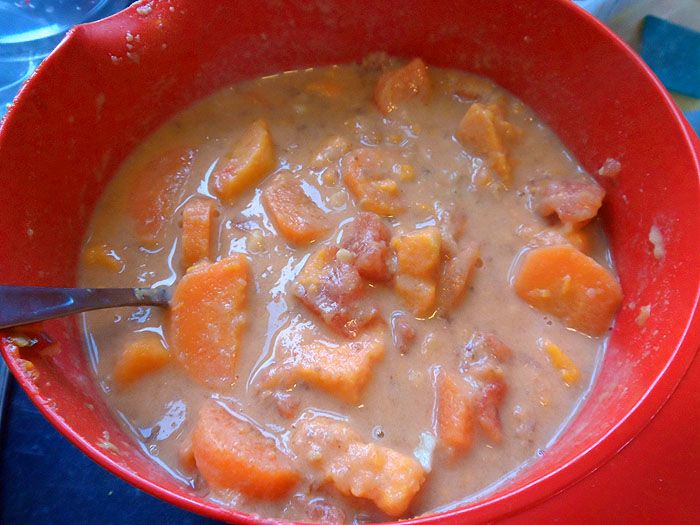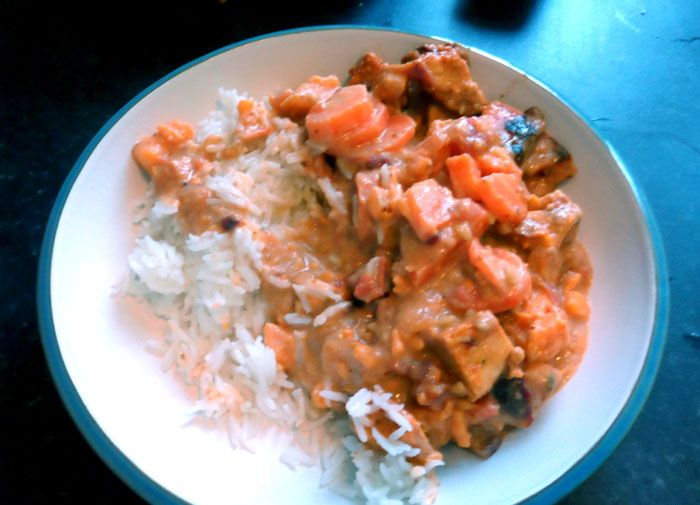 Yum!
Do you have any lesser-known recipes passed on by friends or brought back from holiday?
Love,
Emy
xxx