Прокручиваете пожалуйста вниз за рецепт по-русски!
You might remember that in my
post about Valentine's Day
I mentioned making Russian porridge for my flatmate as breakfast in bed. Russians are big fans of porridge, which they call kasha. They have porridge made out of oats just like we do, but they also sometimes make it out of
toasted buckwheat
, or grechka (you can get this in any Eastern European supermarkets - give it a Google; there will probably be one near you!). It has a really nutty kind of taste, and I've become a little obsessed.
For one portion, you need:
Toasted buckwheat groats - about half a cup, or 40g
A cup of milk. The recipe says soya milk, but I used oat milk. The main thing is to use about double the amount of milk as you use buckwheat.
A pinch of cinnamon
One banana, mashed
Two tablespoons of almonds, chopped
A spoon or two of agave nectar (optional - this isn't in the original recipe)
Bring the buckwheat in the milk to the boil, then add the cinnamon and agave, then turn the heat down and simmer until all the milk is absorbed - it should take about fifteen minutes.
Whilst your kasha is simmering, mash up a banana with a fork in a bowl, and add the almonds.
When the milk has been absorbed, take the pan off the heat and add the buckwheat to the bowl. Mix it all together and there you go!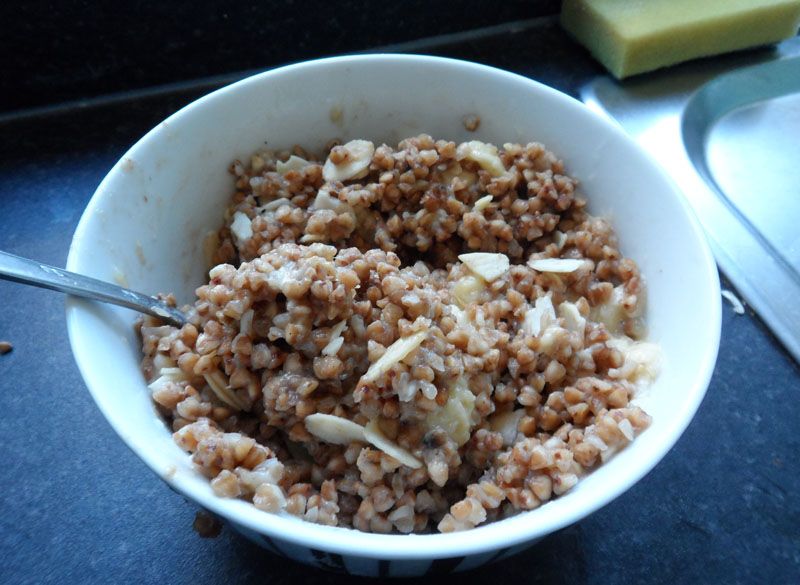 I hope you try this; it's delicious, healthy, and filling - exactly what you need from a breakfast, right?
Love,
Emy
xxx
Original Russian recipe:
• 1/2 чашки гречневой крупы
• 1 спелый банан, пюрированный
• 2 столовые ложки миндаля, порубленного
1. В маленькой кастрюле смешать гречневую крупу, соевое молоко и корицу. Накрыть крышкой и довести до кипения, затем варить на медленном огне, пока греча не впитает всю жидкость и станет мягкой, около 10 минут.
2. В миске смешать бананы и приготовленную гречу.
Посыпать миндалем и подавать.